2015 NEWS

Sportshall Club Records - Sportcity - 15th November 2015
 
Another fantastic turnout for the Sportshall Competition.
 
Plenty of P.B.'s and 9 Club Records...
 
U11 Girls - Standing Long Jump, Shivani Mistry, 1.78m
U11 Boys - 1 Lap, Lucas Evans, 10.98s
U11 Boys - 3 Laps, Lucas Evans, 34.79s
U11 Boys - Standing Long Jump, Lucas Evans, 2.04m
U11 Boys - Speed Bounce (20 secs), Nathan Fryer, 51 bounces
U13 Girls - 6 Laps, Kyra Brindle, 81.15s
U15 Girls - 2 Laps, Alix Duggan, 22.47s
U15 Girls - Standing Long Jump, Megan Boyden, 2.00m
U15 Girls - Standing Triple Jump, Megan Boyden, 5.65m

20/11/2015
Sportshall Club Records - Sportcity - 25th October 2015!

U11 Girls - 1 Lap, Shivani Mistry, 12.10s 
U11 Girls - Speed Bounce Girls (20 secs), Shivani Mistry, 51 Bounces
U11 Girls - 4 x 2 Lap Relay Girls, Sophie Isherwood, Isabella Kershaw, Charlotte Lowe, Shivani Mistry, 100.1s
U13 Girls - Standing Long Jump Girls, Isabel Johnson, 1.86m

Congratulations everyone!

26.10.15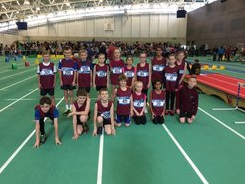 Fantastic end to the track and field season!


A huge thank you to everyone who was involved in the last track and field race of the season! It was a fantastic turn out by Salford Met! Many thanks to all the officials, team managers, volunteers and supporters who made the day run smoothly! Including u11's' we had approximately 75-80 athletes competing!

A huge congratulations to the men's relay team who broke the senior 4x100m relay record! Also winning the relay on the day. congratulations to Matthew Hulme, Steve Lightfoot, Andy O'Connell and Lewis Hickson. Also a special mention to those athletes who volunteered to stay for the women's and non counter relays and those athletes and parents who ran the 10k in the morning and still came to compete in or support the Cheshire league in the afternoon.

A big thank you to everyone for helping make sure the French athletes felt welcome throughout the weekend! They really enjoyed their weekend and in particular the Cheshire League event!



10/09/2015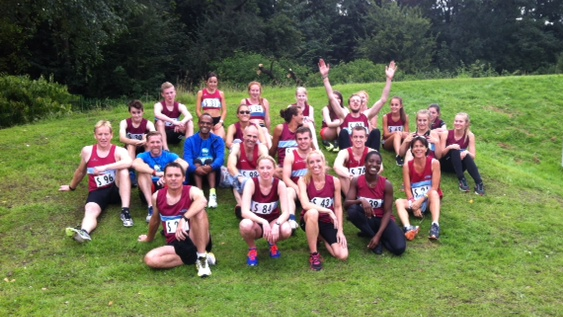 Club Records for Isobel!


Congratulations to Isobel Seed on breaking two u17 club records at Trafford on the 8th August.  She broke Naomi Ogbeta's u17 women's triple jump with a jump of 9.95m, she finished 2nd in the women's 'A' string. She also broke Emma Wright's u17 400m record in a time of 65.7seconds and won the 'B' race. Congratulations Isobel!

31/08/2015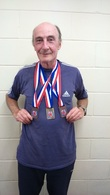 British Champion!

Congratulations to one of our Veteran Athletes, Derek Martin, in his recent success at the British Masters Outdoor Championships 2015 held at Birmingham. Derek achieved a Gold Medal in the Javelin event and Bronze Medals in both the Shot Putt and the Weight throwing events.  Excellent achievement for the Vet 60 athlete.

07/08/2015
New u15 Boys Club Record!

At the final YDL of the season on the 18th July Jordan Jones won the 100m in 11.8sec to break the u15 boys club record, after running a PB in the 200m and winning the shot! Many other athletes who competed on the day managed to improve on their PBs in various events. Well done to all who took part.

18/07/2015
Equal club record!

Jordan Jones had another fantastic run this weekend in the YDL (21st June), as he equaled Alistair Roome's 100m U15 boys club record, after running a PB in the 200m. A special thanks to all the officials, coaches and other volunteers who helped ensure this home meeting ran smoothly.

Also a big  thank you to the following athletes and their parents/carers/supporters who spent Fathers day competing and supporting their club:
Isabel Johnson, Ella Hopkins, Ella Buckley, Lucy Keogh, Jade Bailey, Ethan Maguire, Dougal McDermott, Jordan Jones, James Dagnall and Jayden McCormack!

17/06/2015
Age is just a number!
 
In the last month or so some of our young athletes have been winning medals and breaking club records in various events. However, on the 17th June it was our veterans turn! They competed at the Joe Moran Veteran meet which attracts lots of veteran athletes from across the country. Salford  Met had four athletes take part and they all came back with medals! Derek Martin claimed four golds in the long jump, javelin, high jump and shot put. Mike Race claimed two golds in his age group in the long jump and 200m. Steve Lightfoot also picked up two golds in his age group in the 100m and 400m. Paul Stevenson ran a pb in the 800m and claimed a silver, he then ran the 3000m and ran another pb and claimed gold in his age group. Congratulations to all of our athletes!

17/06/2015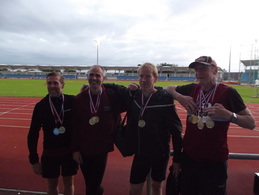 Greater Manchester School Championships


At this years school championships we had two athletes take part, well done to Jordan Jones being asked to represent Salford and Dougal McDermott who represented Bolton. Jordan Jones came third in the junior boys 100m final in a new PB of 12.2! Dougal finished 7th in the junior boys 800m final. Well done to both of the boys representing their towns at  the school county championships.

17/06/2015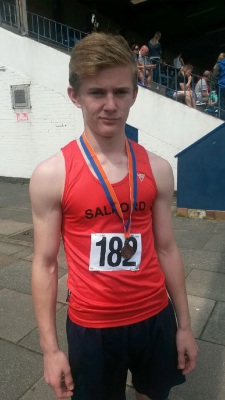 Medals at Greater Manchester Championships
At this years county championships we had three athletes compete and they all came back with medals! On the Saturday Lewis Hickson ran 23.68 in the u20 mens 200m to claim silver! Olivia McDermott also claimed  silver in the senior women's 400m with a pb of 60.07 improving on her club record. Dougal McDermott ran a massive 18 second pb in the u15 boys 800m and claimed bronze, he ran 2min 18seconds! On the Sunday Lewis Hickson ran again in the 100m and claimed another silver medal and Olivia McDermott ran in the 800m to become senior lady champion! A huge well done to all these athletes winning medals at county level.

24/05/2015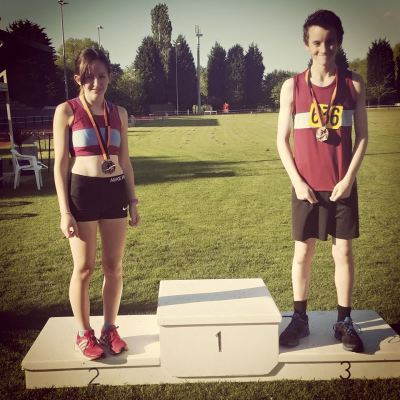 First Round Cheshire League

On the 10th May we hosted our first home meeting of the season in the Cheshire League. Thank you to everyone who helped us ensure our first home meeting ran smoothly. A big thank you to all our athletes who took part and their supporters. We could not of done it without you all!  A special mention to Ellis Cooper who broke his own club record in the Senior Men's javelin he threw 43.46m!

20/05/2015
New Club Record!

A huge well done to Lewis Hickson on breaking the U20s club record in the 400m in 52.0s in very windy conditions at Deeside on the 3rd May. Thank you to the u17s - senior team for their huge effort at Deeside, as a club we finished 2nd on the day. We had lots of first places and people competing in events they would not normally do. Big thanks to Isobel Seed for having a go at the 400m hurdles without any training! The next Northern League is 6th June @ Crewe, we need as many people as possible to compete to help us fill the events and work towards securing promotion.

Well done to all the girls and one boy Dougal McDermott who competed on Saturday 2nd May at the YDL, we need more u13 and u15 boys to help us progress in this league.

29/03/2015
M60 Miniathlon Success!

On Sunday 29th March Salford Met hosted it's first track competition of the year. 

Huge well done to our U9 Boys and Girls and U11 Boys and Girls who came first overall in the Miniathlon!
A special mention to:
Grace Booth who won the Bronze Medal for overall performance for the U9 Girls.
Sophia Bratt who won the Silver Medal for overall performance for the U9 Girls.
Megan Bentley and Alicia Backhouse who both won the Bronze Medal for overall performance for the U11 Girls.

Thank you to the 35 athletes, their parents and those who supported. Also many thanks to the officials, team managers and all the other volunteers who helped the event take place.

29/03/2015
Excess of 90 years voluntary service!

After the AGM, chairman Alan Cooper surprised three of our long standing volunteers with an award for services to the Club. Jennifer Crowther, Alan Dawson and Alan Thomas have in excess of 90 years voluntary service between them. A huge thank you to all three of them.

Young athletes to represent Greater Manchester!

Congratulations to our U11's Megan Bentley and Lucas Evans who have been selected for this years Greater Manchester Sportshall team. 

They will compete against other teams from across the North-West in a 'Fun in Athletics' Sportshall competition at Sportcity on Sunday the 18th of Jan 2015.

Well done and good luck !!!

18/01/2015
Happy New Year!

Happy New Year everyone! At the end of last year we had our annual presentation evening, well done to all those athletes who picked up awards! Keep up the hard work and commitment. We still have some trophies to hand out, these will be given out at training.

07/01/2015